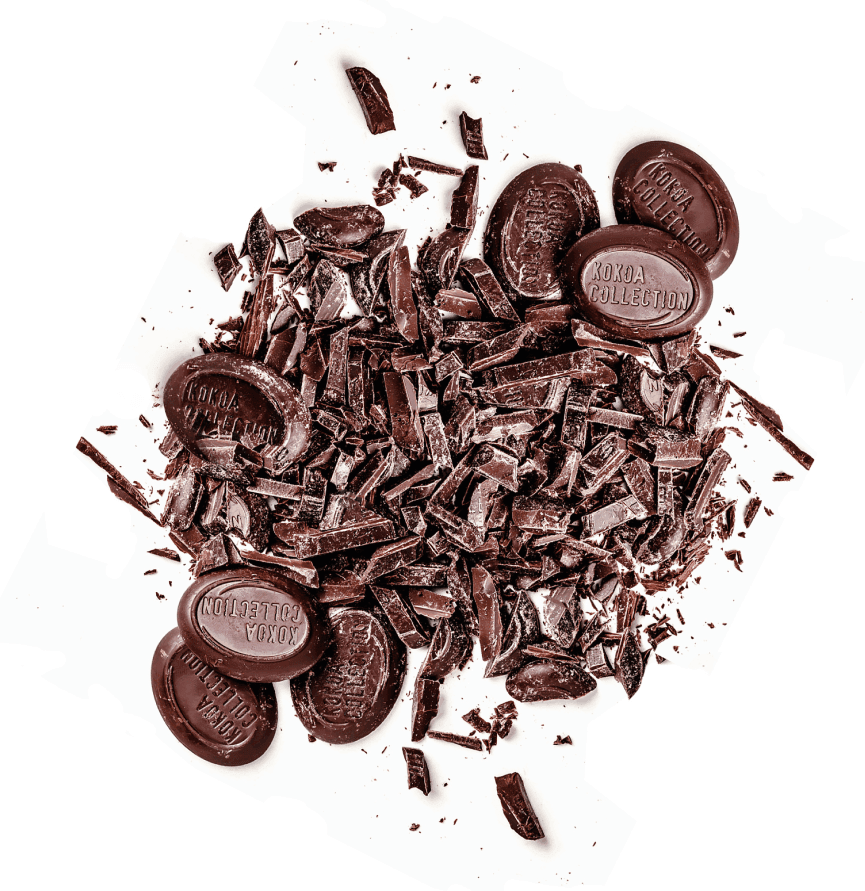 Visits to luxurious Viennese coffee houses with my grandmother kindled my love and obsession for hot chocolate.  At university, my friends had a television in their bedroom but I had a microwave – they would crowd into my room, taste-testing the unique and exotic flavours I had created for their hot chocolate. 
Kokoa Collection was launched at the London Coffee Festival in 2011.  We became the first brand in a coffee shop culture to melt solid chocolate, rather than powder, to create drinking chocolate. 
Fast-forward to today, our stockists serve over two million hot chocolates a year.  The hot chocolate experience is one to be shared – whether you're sharing it with your customers or making happy memories with your friends.
Oh, and I still play around with new hot chocolate recipes – just like I did at college.
Our Hot Chocolate Collection
We curate chocolate from all over the world to give our customers a variety of tastes to choose from – hence the name "Kokoa Collection."  We specialise in single origin hot chocolate, which means that the beans are sourced from one specific region – resulting in diverse, delicious flavours with a unique connection to each area.  Our carefully-sourced beans come from nine countries so you can enjoy the experience of single origin hot chocolate and their unique flavours.
All you have to do is just melt our chocolate tablets in some hot milk of your choice and then use a hand whisk or frother for a deliciously light experience.
With the exception of our Ivory Coast white chocolate, all our chocolates are vegan.
Explore our delightfully-indulgent chocolate and discover the ultimate hot chocolate experience.
Over the past ten years, we've been building relationships with farmers in countries around the equator so we can support our growers.
Working with local cooperatives means we source beans from farmers, not large plantations.  These smallholder farmers are dedicated to the sustainable growth of cocoa, expertly caring for their trees, regenerating their farms when needed and ensuring rigorous hygiene at every stage of the growing process. 
Farmer organisations in the Dominican Republic that work with us receive a premium on top of their minimum price, which they invest in projects of their choice.  Many cooperatives use the premium to improve their production, replacing old cocoa trees and investing in better facilities for crop collection, storage and transport.  We believe that if we want sustainable cocoa in the future, the farmers need to earn a viable living from their work.
A key factor in sustainability is making sure the Theobroma cacao trees are well-managed, pruned and nurtured to ensure the best quality beans and a sustainable future for everyone involved in cocoa production.
By telling our customers exactly where the beans come from, we make sure our cocoa has traceability and transparency – as well as being the foundation for a delicious product.
However, sustainability doesn't just stop with the farmers.  We're continually working on ways to offset our carbon footprint. 
To save packaging waste, our delicious powders come in a refill tin and our hot chocolate retail packs are made from fully-recyclable materials.  In 2022, we aim to switch to 100% recyclable packaging.  Our priorities also include becoming carbon neutral and starting a tree planting project in Haiti. 
As our dynamic company continues to grow, we will keep looking for new ways to protect the environment and expand our sustainability.
We have a loyal family of stockists, whose customers love their hot chocolate and want to have the Kokoa Collection experience.  Want to know more about how to become a Kokoa Collection stockist?  We'd love to hear from you.